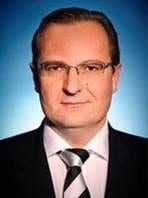 CAREER TRANSACTION HIGHLIGHTS
The first-ever KKR investment into Australia and for many years the largest-ever leveraged buy-out in this country, in respect of their AU$ 1.8 billion leveraged buy-out of Australian subsidiaries of Brambles Ltd, a global supply-chain logistics company;
the first-ever leveraged buy-out in Serbia as well as  the first western liquidity provided to a Serbian company post the Yugoslav war, acting for UniCredit Bank Austria as agent for an international syndicate on a EUR 110 million financing of Mid Europa Partners' acquisition of Serbia's largest cable television and internet provider SBB (Srpske kablovske mreže d.o.o.);
the first-ever leveraged buy-out in Slovenia, acting for UniCredit Bank Austria, BNP Paribas, ING and WestLB, on the EUR 73 million financing of the acquisition of UPC Slovenia by Mid Europa Partners;
the first-ever leveraged buy-out in Malta, acting for a consortium of private equity funds led by GMT Communications Partners in respect of their EUR 85 million senior, mezzanine and PiK financing of the acquisition of "quad-play" telecommunications provider Melita Cable plc.;
the first-ever "true sale" Czech loan asset Securitisation, acting for Credit Suisse International on the local aspects of their EUR 1.659 billion Titan-2 securitisation;
for many years the largest-ever single asset restructuring in Central & Eastern Europe, acting for KBC Bank NV as agent for a nine bank syndicate on the restructuring of EUR 367 million facilities, with an additional EUR 50 million equity injection, provided to Irish Property Developer Ballymore Group in respect of the Eurovea International Trade Centre in Bratislava; and
the last-ever "east-west" club of lenders comprised of ING Bank (Netherlands), UniCredit Group (Italy & Austria), Gazprombank (Russia), Sberbank of Russia and Alfa Bank (Russia) on the provision of EUR 416 million corporate facilities to Ukrainian energy conglomerate, D.TEK. The size of the facilities and rare combination of European and Russian liquidity made this one of the most significant transactions in Ukraine in 2011 and was the last such syndicate to lend into the Ukraine for the foreseeable future.
Pacific Equity Partners on an AU$ 1.3 billion management buyout of Flight Centre Limited Global.
ABN-AMRO on an AU$ 550 million debt funded employee share scheme.
Australian Publishing Broadcasting Limited – Australia's largest media group - on its AU$ 4.5 billion debt restructuring.
Rexel Pacific on negotiating and securing its participation in EUR 3.1 billion of senior and mezzanine syndicated acquisition and capital expenditure facilities provided to French parent firm Rexel S.A.
Woolworths Group on an AU$ 2.6 billion intercompany loan facility to its subsidiary Australian Leisure Hotels Group.
Trans Austria Gasleitung, a joint venture pipeline infrastructure company of OMV, one of Austria's largest listed industrial companies and SNAM S.p.A., an Italian natural gas infrastructure company, in relation to an English law governed EUR 320 million revolving credit facility from a nine bank syndicate led by ING Bank NV.
J&T Banka, a.s. as facility and security agent in connection with an English law governed EUR 203 million refinancing facility to MEF Holdings Limited as borrower and J&T Banka, a.s., Poštová Banka, a.s.,  J&T Bank A.O., Vaba d.d. and Banka Varaždin as lenders.
Mezzanine Management, in relation to the provision of CZK 411 million mezzanine acquisition, working capital and capital expenditure facilities, governed by English law, to BioVendor –Laboratorni Medicina a.s. for, among other things, the acquisition of leading German immunodiagnostics specialist Immunolab GmbH.
A syndicate led by Deutsche Bank AG, London Branch, on a EUR 475 million bank and EUR 775 million bond financing of Triton Capital's leveraged buyout of GEA's Heat Exchangers business, one of the largest international suppliers in the food processing industry and a wide range of other process industries.
Helixor Ltd., on an English law governed total return swap agreement with a BVI company in relation to its 33% shareholding in a Collective Investment Scheme owning the recently privatised Greek national lottery OPAP, valued in excess of EUR 750 million.
J&T Finance Group SE in connection with its bid for Zuno Bank AG (a subsidiary of Raiffeisen Bank International) in the Czech Republic, Slovakia and Austria. The transaction, with a headline deal value in excess of EUR 700 million, involved extensive due diligence as well as SPA negotiations.
D.TEK, the largest privately owned, vertically integrated energy company in Ukraine, on a EUR 450 million gas pre-export facility.
UkrLandFarming, the largest vertically integrated agricultural holding company in Ukraine, on a EUR 338 million pre-export finance facility, in connection with grain exports to Russia.
Reform Capital s.r.o. (acting on behalf of Monarch Alternative Capital and Deutsche Bank), in respect of its bid for a portfolio of approximately 75,000 non-performing retail loan assets (NPLs) in four CEE countries (Croatia, Slovenia, Serbia and Montenegro) with a nominal value in excess of EUR 400 million.
Erste Group Bank and Erste Group Immorent on the sale of a Ukrainian NPL portfolio, with a nominal aggregate value approaching US$ 850 million and comprised of corporate and real estate NPLs.
J &T Banka, a.s. on its provision of a US$ 75 million development refinancing facility to Gladonia Maldives Private Limited and Velaa Island Maldives Private Limited as co-borrowers as well as a put option and intercreditor agreement with PPF banka a.s. as co-lender, in connection with the development of a luxury resort in the Maldives.
Global private markets investment manager Partners Group, as local counsel to Ashurst LLP, in connection with a EUR 74 million financing of a unitranche facility provided to Alltub, a worldwide leader in the manufacture and supply of aluminium products.
DZ Bank AG and Commerzbank AG, as local counsel for Ashurst LLP, in connection with the EUR 80 million and GBP 6 million financing of the Ardian fund's acquisition of the Pacific Direct Group, a manufacturer and distributor of branded guest toiletries and luxury hotel amenities, for hospitality clients in over 120 countries worldwide.
GE Capital Bank AG on a EUR 130 million factoring facility to Constellium Decin, the largest integrated aluminium hard alloy extrusion facility in Europe.
Erste Group Bank AG on a EUR 60 million refinancing of the Prague Marriott Hotel by Walton Street Capital Partners.
UniCredit Bank Austria as agent for a syndicate of lenders including Erste Group Bank and Privredna Banka Zagreb, on an EUR 85 million corporate facility to Konzum d.d., a leading supermarket chain in Croatia.
Raiffeisen Bank International as agent for a syndicate including UniCredit Tiriac Bank, Banca Comerciala Romana, BRD-Groupe Social General and BNP Paribas on a EUR 103 million corporate and refinancing facilities to Mediplus Exim SRL, a leading pharmaceutical chain in Romania.
GMT Communications Partners on a NOK 320 million management buyout of Seagull Group, a Norwegian-based global software provider for bulk carrier and tanker shipping.
Aareal Bank on a EUR 98 million acquisition by Westmont Hospitality and Baupost Group of the Prague Intercontinental Hotel.
Mid-Europa Partners on the EUR 65 million acquisition of a controlling stake in the Czech-based largest independent developer and operator of photovoltaic power stations in Central and Eastern Europe, Energy 21 a.s.
A consortium of private equity funds led by Advent International on their EUR 130 million acquisition of KAI (Khan Aspruh A.D. – Tiles E.O.O.D.), the largest tile manufacturer in Bulgaria and the subsequent restructuring of the loan facilities.
ING Bank NV and Ukrsotsbank on a US$ 100 million corporate and acquisition facilities for Kernel Holding, the largest agro-industrial business in Ukraine, which is also listed on the Warsaw Stock Exchange.
Mills J. Kirin LLB (Hons), BComm. (Hons 1st Class) (UNSW)
Partner
Mills Kirin is a senior lawyer with over 15 years global experience in International Banking and Corporate law gained over a career spanning Sydney, Melbourne, London, Vienna and Prague.
Mills' Practice on the sunshine coast focuses mainly on general business law including corporate, commercial, banking and real estate matters. However, he also regularly advises clients on criminal and family law matters and appears before state and federal courts in Queensland.
Mills earned double honours degrees in Law and Commerce as well as a degree in Computing from prestigious Australian universities and has been a lecturer at the Postgraduate School of Management - University of New South Wales (Sydney), at the Law and Commerce faculties of the University of Tasmania (Hobart) and the Law faculty of Charles University (Prague). He is a member of the Golden Key International Honour Society and was admitted to practice as a Barrister & Solicitor in Australia in 2004.
He has also been a Trustee of an educational foundation - the Centre for Economic Research and Graduate Education – Economics Institute (CERGE-EI) Foundation, a New York State Education Department entity with a permanent charter for its degree-granting educational programs awarded by the New York State Board of Regents, as well as a non-executive Director of the Global Battle of The Bands worldwide music competition.
After leaving Europe in 2018, Mills has relocated to the Sunshine Coast of Queensland, which offers not only the coveted work-life balance lacking in corporate life, but also the stunning beauty of South East Queensland and its friendly locals.
The 2013 edition of the Chambers Europe Guide noted that Mills is a "practical and client-focused practitioner" and ranked him as an "associate to watch". More recently, he was recognised in the Chambers Global Guide 2015 as a "foreign expert on Central & Eastern Europe." In the same year he was also listed by Chambers Global as a Tier 1 Banking & Finance lawyer at Wolf Theiss (Vienna). The 2016 edition of Legal 500 also recommends Mills as a leading lawyer.